Your wedding day is all about the precious memories and beautiful moments with your family and friends and what better way immortalize all the fun than with a unique wedding photo booth or creative backdrop for those instagram-worthy shots? Wedding photo booths are the best way to entertain your guests throughout your wedding day, and the results are fantastic timeless memories that are entirely different from your professional photographer's photos.
Best part? Setting it up is as easy as you want it to be, whether it's a DIY wedding photo booth idea or an elaborate structure. You can make your own, have it built, or rent the wedding photo booth you've always wanted! Don't forget to think of the accessories like photo booth props, the color palette and lighting to match your wedding's theme. But most importantly, have fun and get as creative you want with your photo booth or backdrop design.
Below is a selection of the most unique wedding photo booth ideas to inspire you while planning your dream wedding.
Colors and florals galore
Fully decked out flower walls make a huge visual impact and you'll definitely guarantee beautiful and memorable pictures with your friends and family! Add a neon sign to the mix for that extra dash of creativity.
Photo booth bus
Nothing beats a VW bus upgraded as a photo booth. Fun, cute and customizable to fit any wedding theme. It's no wonder that this is a crowd favorite!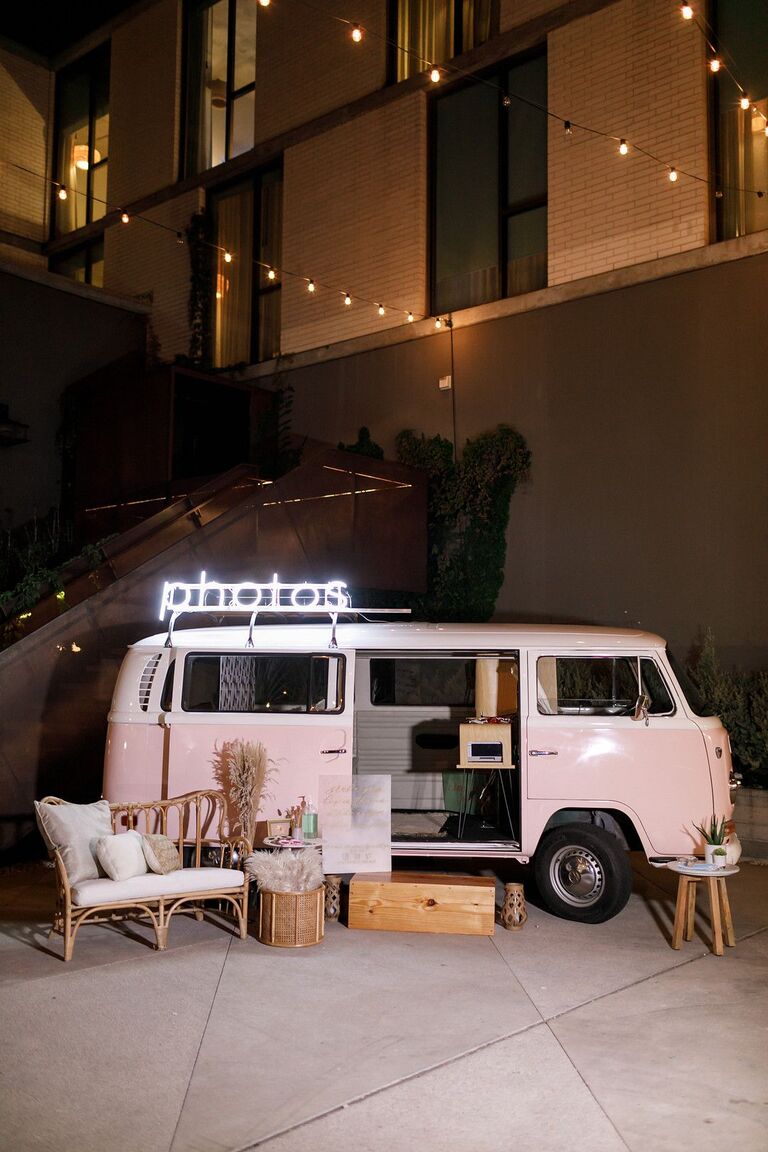 Industrial meets Boho combo
Wondering how to make your industrial wedding venue's walls more photo-friendly? Frame them with flowers like this bride did: the floral arrangements gave a poetic touch to the otherwise cold concrete and the result was a surprisingly sweet yet creative photo booth!
Unique & simple
A photo booth setup doesn't need to be extravagant. This design combines simplicity and uniqueness with its white textured backdrop and personalized neon quote. A great way to make use of lost spaces like this corner!
Tropical photo booth corner
If you're having a tropical theme or hosting a destination wedding in a tropical country, this one is for you. Think foliage, palms and everything green paired with touches of hot pinks and shades of orange. Fresh all the way!
All-white wedding
Stay classic but with a twist and go for a white floral wall like this bride. Use some wedding photo booth props to add some fun to your oh-so-pretty but classic backdrop.
Shabby chic wedding photo booth idea
This is one unique wedding photo booth! Romantic vibes, vintage touches, mixed dainty floral prints, and dusky-colored backgrounds… Definitely not too shabby!
Simple & Rustic elegance with a modern twist
No matter what style you're going for, a photo backdrop that's worthy of your guests' social media feeds is a definite plus. Add a neon name sign to an otherwise plain wooden backdrop to give your rustic booth setup that extra edge. Best part? You can even add a floral arrangement to the mix to give your setup a chic and romantic look.
Wedding photo booth with a balloons backdrop
Whimsical, fun, and unique! What better way to immortalize precious moments than by taking awesome pictures with your guests with a balloon photo booth backdrop? The more colorful, the funner!
Eclectic mix
Dried and green palm leaves, statement cane chair, ethnic rug, and a neon sign…"Your wedding guests will be lined up to pose against this backdrop. This eclectic mix is both surprising and unique – a guaranteed great addition to your wedding album!
Modern whites
Easily mistaken for a contemporary art piece, this photo booth backdrop is stunning. With unorganized but carefully selected dried floral arrangements framing a beautiful all-white art piece, it is a never-seen-before photo booth!
Celestial theme
I love you to the moon and back has never been so real. Go for a celestial photo booth with a star and moon to have the most epic pictures!
Sweet rustic vibes
This rustic photo booth features wooden raw palettes and effortlessly scattered floral arrangements. The rustic touch is in the material and the type of flowers. We love it!
DIY photo booth
This is one inexpensive yet super cool wedding photo booth idea: Grab a smartphone or tablet, place it on a tripod or stand, search for the best wedding photo booth app on your iPad, scribble a cute note and have some Instagram fun!
Lounge style photo booth
Add an extra layer of fun and entertainment to your cocktail hour by having your lounge area also serve as a wedding photo booth. Laughter and fun photos guaranteed!
Forever frames
A great option, especially for some fun and original group pictures! Add an extra cool and personalized touch by adding old family pictures to the mix.
Personalization at its best
An inventive way to personalize your wedding and your photo booth in particular. Write your favorite quotes or names and draw things that symbolize your relationships. You can make it even more fun by leaving it up to your guests to write what they want and take a picture next to it.
Vintage all the way
No rom-com is complete without an old-school photo booth and this option will definitely have your guests clamoring for some shots. Add a real vintage feel to bring in a fair's mood to your wedding!
Insta-worthy photos
Fact: awesome Instagram shots will be served. The swing makes all the difference in this wedding booth setup by adding an interactive experience to the mix. Best part? Your guests can get silly while taking their photos.
For more destination wedding inspiration, head to WedBoard to get started on planning your own dream wedding. If you're looking to browse wedding venues in Italy then check out WedBoard's Find your venue feature to price out your favorite Italian venues or simply chat directly with your favorite Italian wedding vendors. Happy planning!
Feature Image Details: Photo: Julie Cahill Photography